The post Boutique hotel, ARTOTEL Casa Kuningan opens with 46 keys appeared first on TD (Travel Daily Media) Travel Daily.
ARTOTEL Group in collaboration with PT Selat Niagatama inaugurated the opening of the newest hotel in South Jakarta, namely ARTOTEL Casa Kuningan on 20 October 2022. ARTOTEL Casa is one of the ARTOTEL brands for boutique hotels with a Service Residence concept that prioritizes "personal service" and an environmental atmosphere like being at home. This brand is specifically aimed at business travelers with longer stay periods. As one of the ARTOTEL brands, ARTOTEL Casa also carries the concept of contemporary art in a touch of the interior of the facility and has ARTSPACE as a mandatory facility of the property with the ARTOTEL Brand.
Located in the premium area, precisely on Jl. Denpasar Raya Blok A/13, Kuningan, South Jakarta, ARTOTEL Casa Kuningan is very close to embassies and government offices, business centers, and shopping centers. Equipped with 46 rooms consisting of Studio 25 with an area of 25 m2 and Studio 28 with an area of 28 m2, each room is equipped with a Mini Pantry, Mini Refrigerator, Instant Coffee Machine, and complete amenities. The hotel, which is dominated by shades of green, provides a cool and soothing feeling in every facility which is equipped with 1 restaurant called La Gazette, ARTSPACE, and a Swimming Pool located in the Lobby area, as well as the Rooftop Bar a la ARTOTEL, BART (Bar at The Rooftop), and the gym which is on the 5th floor.
Eduard R. Pangkerego, chief operating officer of ARTOTEL Group said: "ARTOTEL Casa Kuningan is the 2nd ARTOTEL Casa brand property that we opened in Jakarta, after ARTOTEL Casa Hangtuah. We are very proud that the Service Residence concept promoted by ARTOTEL Group has received a positive response from hotel investors and the public. We will also present the next ARTOTEL Casa in other cities in the near future."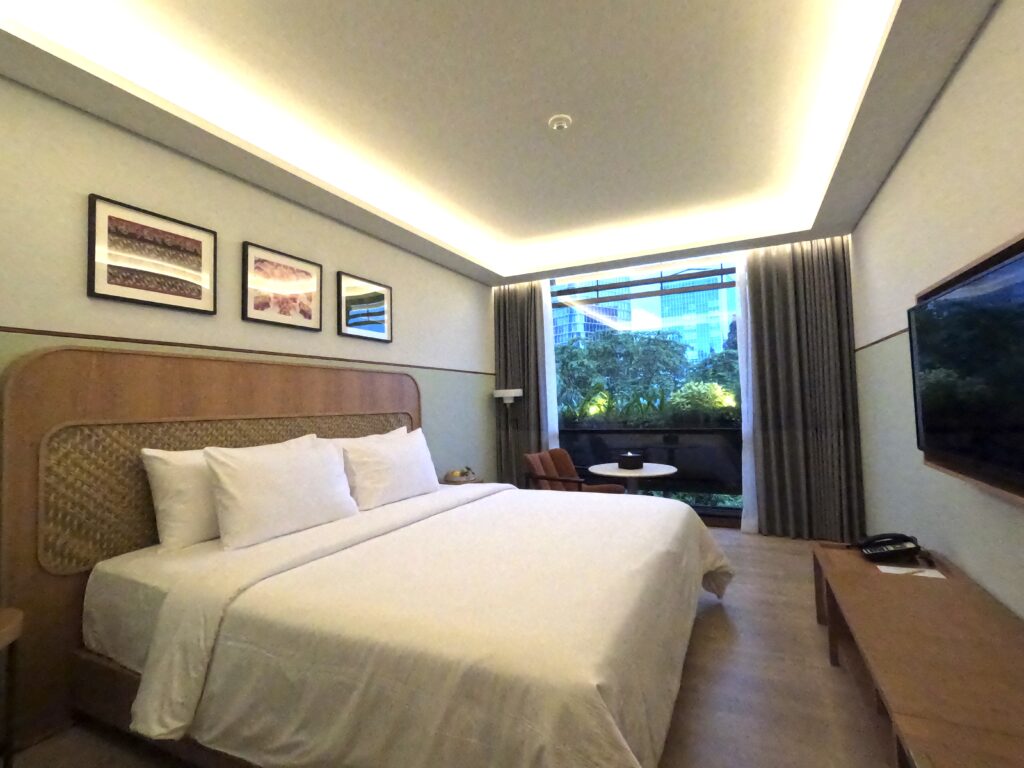 "As a Service Residence that carries the concept of Modern Art and Lifestyle, especially at ARTOTEL Casa Kuningan, we present the concept of a contemporary Restaurant and Bar such as La-Gazette & BART which is suitable as a casual meeting place and entertainment for its guests. We present BART at this hotel because its location is very suitable to provide an atmosphere of Jakarta city views and we combine it with a variety of food dishes, cocktails, mocktails, wine, spirits and musical entertainment offerings, "added Eduard.
Gail Aluwi, president director of PT Selat Niagatama stated: "With the strategic location we chose for ARTOTEL Casa Kuningan, which is in the middle of Jakarta, through the service residence concept offered by ARTOTEL Casa, we want to make this hotel a "home" for travelers; business travelers who come to Jakarta where this hotel can provide supporting facilities to facilitate businesspeople, both from in-room facilities in the form of a mini pantry, as well as restaurant, bar, swimming pool and gym facilities which can be a place of entertainment and relieve fatigue after being busy with business affairs. In line with our tagline Lushful Abode in The Midst of Metropolitan, we hope that our guests can feel comfortable with a beautiful residence in the midst of the hustle and bustle of Jakarta. In addition, we also hope that our hotel can become a fun gathering place for the surrounding community, through the La Gazette and BART restaurants owned by ARTOTEL Casa Kuningan – Jakarta."
The opening of this hotel was also marked by the start of an art exhibition at ARTSPACE which featured a solo artwork from a local artist, Christina Phan with the theme 'FELICITY' with a photo exhibition concept. It is hoped that ARTSPACE ARTOTEL Casa Kuningan can become a forum to support local Indonesian artists to be able to revive artistic and creative activities in Indonesia, especially in the capital city of Jakarta.
The post Boutique hotel, ARTOTEL Casa Kuningan opens with 46 keys appeared first on Travel Daily.
Source link